Summer is whizzing by. Is it for you, too?
I've barely had time to craft or bake, let alone blog.
But today my friends, I did both!! I gave myself some 'me' time and boy, did it ever feel good.
Here's what I made: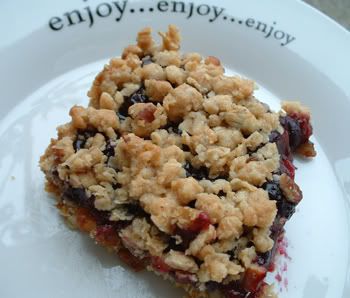 Almost Starbucks Blueberry Oatmeal Bars
.
Each bite was accompanied by a small, but audible- mmmmmm. Seriously. Would I lie to you? Absolutely not.
And now I have a whole 11x7 dish of these bars. Sweet.glorious.pleasure.
* 1 3/4 cup Quaker Oats, uncooked (quick or old-fashioned)
* 1-1/2 cup all-purpose flour
* 3/4 cup brown sugar, firmly packed
* 1/2 cup chopped nuts (I used pecans. of course =)
* 1/2 teaspoon baking soda
* 1/2 teaspoon salt
* 3/4 cup butter; melted
* 2 cups fresh or frozen blueberries
* 1/2 cup granulated sugar
* 3 tablespoons water
* 2 tablespoons cornstarch
* 2 teaspoons lemon juice
1. Heat oven to 350 F.
2. Grease 11x7-inch baking pan
3. Combine oats, flour, brown sugar, nuts, baking soda and salt
4. Add butter, mixing until crumbly.
5. Reserve 3/4 cup mixture; press remaining mixture onto bottom of prepared dish.
6. Bake 10 minutes.
7. Meanwhile, combine blueberries, granulated sugar and 2 tablespoons water in a medium saucepan.
8. Bring to a boil, simmer 2 minutes, uncovered, stirring occasionally. Combine remaining 1 tablespoon water, cornstarch, and lemon juice; mix well. Gradually stir into blueberry mixture; cook and stir about 30 seconds or until thickened.
9. Spread over partially baked base to within 1/4 inch of edge; sprinkle with reserved oat mixture. Press topping down into blueberries slightly.
10. Bake 18 to 20 minutes or until topping is golden brown.
11. Cool on wire rack; cut into bars. Store tightly covered.
I'm staring at an empty plate void of a mere crumb. I'm hoping that I can show some restraint tomorrow. =)