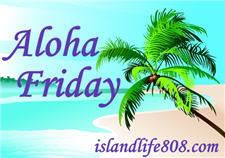 Yay- It's
Aloha
Friday! My Aloha Friday question is:
Are you living in your dream home? Are you happy with the place you live?
Me? I used to think I could retire in this house we're in now, but honestly I'd love to
sell
it!
Hubby and I dream of a house (not a huge house with lots of space to clean) but a medium-sized house with lots of acreage-- enough land to run as fast as you can as far as you can and still have room left.
Land with a natural creek so the guys could fish, and maybe a place to build a little building that I could turn into a store and fill with pastries, cupcakes and all sorts of local artistry- pottery, jewelry, candles and such.
Ahhh, dreams. =)
Head on over to
An Island Life
for more Aloha Friday questions and to play.
Have a wonderful weekend!
-Jen