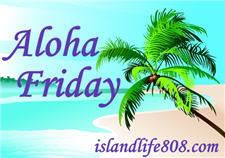 Woot-woot! It's
Aloha
Friday! My Aloha Friday question is:
Are you planning to shop on Black Friday this year??
Me? Absolutely. It kicks off the Christmas season for me. I love coming home with all those presents to wrap, and place under the tree that we put up that night. Ahh, can't wait!
What about you? Are you as excited as I am??
Psst... Target Black Friday Ad is up!! =)
Head on over to
An Island Life
for more Aloha Friday questions.
Have a wonderful weekend!
-Jen