What did I do over the weekend?
Brown sugar scrub makin'! My skin, especially my (yucky) feet, needed it.
I
love
this stuff! S0-I'm sharing the super simple recipe in case anyone else would like to fall in love with it, too.
Brown Sugar Scrub
Basic Ingredients that I'm sure you have at home, if not they are easy to find.
1/2 c. brown sugar
1/2 c. oil <- I used grapeseed oil, but you can use any seed oil, even olive oil
1.5ml fragrance oil <- optional
That's it. Mix it up in a small bowl.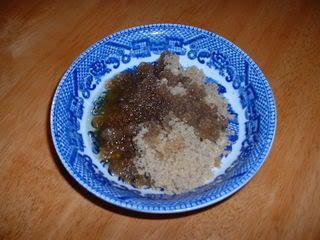 Using the scrub: Massage mixture into your skin. You can leave it on for a few minutes like I do, then rinse. Voila- soft, hydrated skin.
It's heavenly.
Cautions and stuff:
Be careful in the tub or shower, this stuff is slippery.
If you are a diabetic, try replacing the sugar with salt- works great, too.
Happy Monday!
-Jen