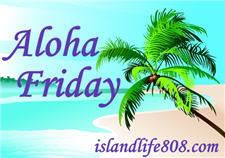 Woo-hoo!! It's
Aloha Friday
! My Aloha Friday question is:
What's one of your favorite things right now?
Here's my most recent favorite thing:
Hello, you beautiful brown bottle of cocoa butter lotion, you.
I just love the smell of you and the heavenly way you absorb. No greasy residue from you. Just plain softy (I think I just made up that word) goodness.
I love that I can get a big bottle of you for under $5. The frugal girl in me thanks you for that. I definitely think you & I will be best of friends in the summer when I'll need you the most. I've been a happy girl with soft skin ever since I brought you home last week.
Seriously though, how nice is it to find a product that you love and that
works
and doesn't cost an arm & a leg?! =)
So, what's one of your favorite things?
Head on over to
An Island Life
for more Aloha Friday questions and to play.
Have a blessed Easter weekend!
-Jen