How do I display my two year-olds artwork?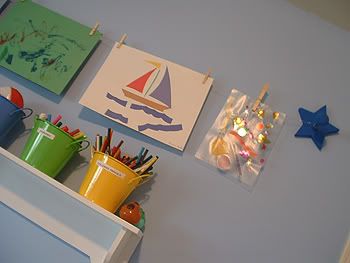 Thanks to some Pottery Barn inspiration, two wooden star hooks ($1 each),
a bit of blue paint, wooden clothespins, and some leftover wire hubby had,
I made this art display for my little guys room.
I love how simple and inexpensive it was to create. It adds such charm to his room, and I can change out his artwork as often as I'd like.
Cheap and cute?
Works for me
. =)
Visit
We are THAT family
for more Works-for-me Wednesday ideas, tips and inspiration.
Happy Wednesday!
-Jen