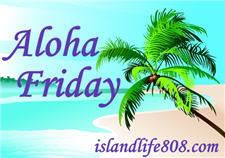 Yay- It's
Aloha
Friday! My Aloha Friday question is:
Are you superstitious?
Have you ever thrown spilled salt over your shoulder? (I think I've seen Rachael Ray do that.) Have you ever avoided opening an umbrella in the house? Or any of these...
Here's the Top 10 Superstitions:
1. Breaking a mirror
2. Walking under a ladder
3. Friday 13th
4. Opening an umbrella indoors
5. A black cat crossing your path
6. The sight of a single magpie
7. Spilling salt
8. Placing shoes on the table or on the bed
9. Treading on cracks in the pavement
10. Walking over three drains
Me? No. I'm not superstitious. Never have been.
I just don't believe in luck. Good or bad. Do you?
Head on over to
An Island Life
for more Aloha Friday questions and to play.
Have a wonderful weekend!
-Jen