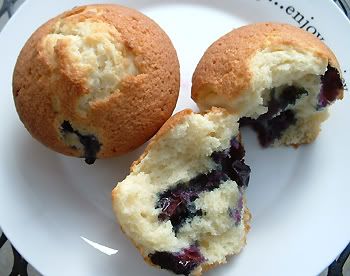 I've used my last pint of blueberries in the fridge.
We've been residing on blueberry lane for the past month or so.
But, it's time.
Time for what, you ask?
Time to put away the blueberry recipes.
Time to start pulling out the apple recipes here in the black-shuttered house.
Time to inhale the sweet scent of cinnamon.
Okay, okay. I know it's
still
summer.
I'm just getting a bit of fall fever, that's all.
Here's what's sitting pretty in my glass cake stand...
Blueberry Cream Muffins
recipe courtesy of KK3 @ allrecipes.
Makes 24.
* 4 eggs
* 2 cups white sugar
* 1 cup vegetable oil
* 1 teaspoon vanilla extract
* 4 cups all-purpose flour
* 1 teaspoon salt
* 1 teaspoon baking soda
* 2 cups sour cream
* 2 cups blueberries- fresh or frozen
1. Preheat oven to 400 degrees F (200 degrees C). Grease 24 muffin cups or line with paper muffin liners.
2. In large bowl beat eggs, gradually add sugar while beating. Continue beating while slowly pouring in oil. Stir in vanilla. In a separate bowl, stir together flour, salt and baking soda.
3. Stir dry ingredients into egg mixture alternately with sour cream. Gently fold in blueberries. Scoop batter into prepared muffin cups.
4. Bake in preheated oven for 20 minutes.
Enjoy!