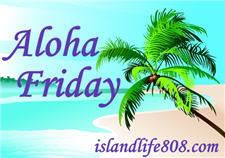 Yay- It's Aloha Friday!

My Aloha Friday question is:

What's your weekend plans? Anything fun & exciting?

Nothing too exciting planned in my neck of the woods. I work this evening - how's that for fun? For the weekend, I'm thinking of relaxing and watching a movie or something equally non-stressful that doesn't involve me doing much. ;D

Head on over to An Island Life for more Aloha Friday questions and to play.

Have a great weekend!
-Jen