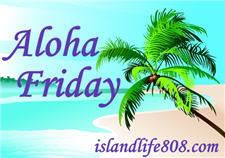 Woo-hoo! It's Aloha Friday!

My Aloha Friday question is:

Do you take vitamins?




I've been curious as to how many people take vitamins on a daily basis.
I don't take a multi-vitamin everyday, but I do take folic acid and a chewable calcium tab when I can remember daily.
I've wondered if I should be taking some Omega's, too.

So, tell me, what's your vitamin(s) of choice? =)

Head on over to An Island Life for more Aloha Friday questions and to play.

Have a great weekend!
-Jen