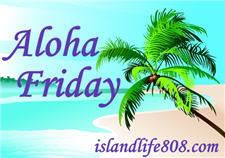 It's
Aloha Friday
Yay!!
My Aloha Friday question is:
What's something you'd like to learn?
I'd love to learn how to work the pottery wheel. How cool would it be to make your own platters, bowls and vases? I imagine it's incredibly satisfying creating something from the earth with your hands. Know what I mean?
Share with me your answer, and let me know where I can find your Friday aloha question- I'd love to answer it.
Head on over to
An Island Life
for more Aloha Friday questions and to play.
Hope you have a great weekend!
-Jen