My nephew stayed for the weekend and we kicked Friday night off with a couple Goosebumps movies, popcorn and some Jones candy corn soda. yum.
Bright and early the next morning, we set off for the Civil War Re-enactment Camp at a Historical Mill we always love to visit.
Here's Nicholas ready for the day-



The scenery was just breathtaking. We must be near our peak fall foliage here in Michigan. I think I was annoying the family because I just kept going on and on about how beautiful all the colors were.



One of the many cannon set about along the river.



You could see these signs posted around and about.



Attempt #1 at a good picture of the kids-


After we got back from our Civil War Camp adventure, guess what was waiting me in my mailbox?
The cutest little zipper pouch that I won at
Jennifer's
Blog Giveaway. She makes the cutest stuff for her Etsy shop! Thanks, Jennifer- I love it!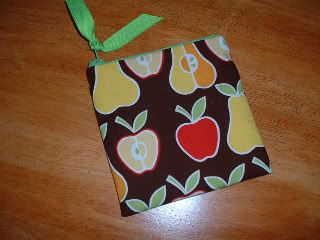 Sunday hubby had to go to academy, and I just relaxed with the kids. What a pleasant weekend I had. Now, it's back to the weekly mahem. {{grin}}

Happy Monday!
-Jen