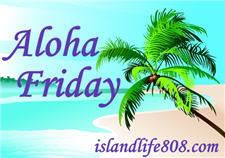 Yippee- It's Aloha Friday!
My Aloha Friday question is:
Would you rather spend the day...cooking with Paula Deen?
crafting with Martha Stewart?
chatting with Oprah?
shopping with Paris Hilton?(oh yeah, she's buying 'cause you're her bff for the day)
Me?
I love Martha.
I like Oprah.
And, I'd rather shop with my bff than with Paris.
But, cooking with Paula Deen... how
fun
would that be?? She seems like such a sweetheart, and so down-to-earth. I could see myself cracking up with laughter while cookin' up some of her delicious fried chicken and biscuits. Oh, how I would enjoying eating her food. Butta and all, y'all. Yumm. =)
Head on over to
An Island Life
for more Aloha Friday questions and to play.
Have a great weekend!
-Jen