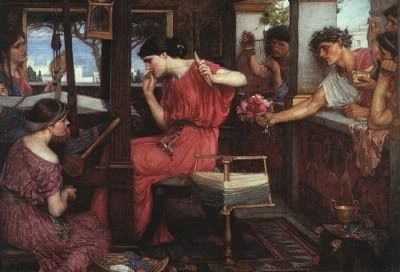 Penelope and the Suitors by John William Waterhouse (1912).
I thought, as I wiped my eyes on the corner of my apron:
Penelope did this too.
And more than once: you can't keep weaving all day
And undoing it all through the night;
Your arms get tired, and the back of your neck gets tight;
And along towards morning, when you think it will never be light,
And your husband has been gone, and you don't know where, for years.
Suddenly you burst into tears;
There is simply nothing else to do.
And I thought, as I wiped my eyes on the corner of my apron:
This is an ancient gesture, authentic, antique,
In the very best tradition, classic, Greek;
Ulysses did this too.
But only as a gesture,—a gesture which implied
To the assembled throng that he was much too moved to speak.
He learned it from Penelope...
Penelope, who really cried.
-Edna St. Vincent Millay
*Side note: In Homer's Odyssey, Penelope is the faithful wife of Odysseus, who keeps her suitors at bay in his long absence. She devised tricks to delay her suitors, one of which is to pretend to be weaving a burial shroud for Odysseus's elderly father Laertes and claiming that she will choose a suitor when she has finished. Every night for three years, she undoes part of the shroud, until some unfaithful maidens discover her trickery and reveal it to the suitors.
Ancient gestures. Fascinating, don't you think?