Pasta Dye
1/2 cup rubbing alcohol
Food coloring

1- Mix alcohol and food coloring in bowl.
2- Add small amounts of any type of pasta to liquid and gently stir.
3- Dry on newspapers covered with wax paper.
Colored pasta is a toddler favorite in the K house.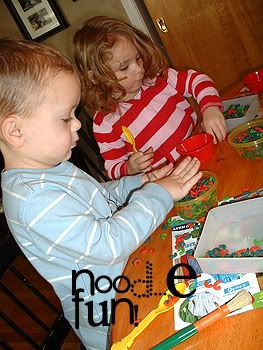 Spoons and bowls- they love it!
*I also dyed some ziti for St. Patrick's Day necklaces we'll be making.
My next set of noodles to color: Wagon wheels!!
Happy Wednesday!