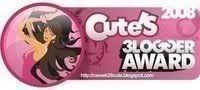 *Isn't it cute?
I think so, too! =)
My bloggy friend, Andrea @
My Chihuahua Bites
passed on this adorable award to me. Thanks a bunch, girlie! It made my day!
*I snapped this pic yesterday. Funny, eh?
When I asked about glow worm sitting in the potty on the couch in the living room, Nicholas replied with the seemily obvious answer...
Glow worm had to go potty.
Hindsight is always 20/20 because I should have given Mr. Glow worm a sticker to put on Nicholas'
empty
potty chart!
*I read Nie Nie's Wednesday post before blogging this morning. I have a lump in my throat. I wish her all the dreams her heart can hold.

I'm off to work now.
Happy Thursay!
-Jen