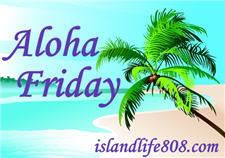 Yippee-ky-yay! It's Aloha Friday! I'm keeping it short and simple today. My Aloha Friday question is:
What's your favorite blog?
I have a couple of current faves...
U Create
NieNie
Thrifty Decor Chick
So spill, what's a current fave of yours?
Head on over to
An Island Life
for more Aloha Friday questions and to play.
Have a great weekend!
-Jen