I've been in a baking mood lately. Can ya'll tell?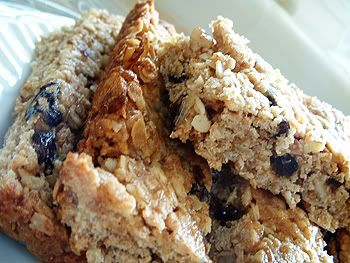 Holy sweet-chewy granola bars, batman.
These babies are delicious.
2 cups quick cooking oats
3/4 cup packed brown sugar
1/2 teaspoon ground cinnamon
1 cup all-purpose flour (I used whole wheat flour)
3/4 cup raisins
1/2 cup coconut
1/2 chopped nuts (I used almonds & pecans)
1 teaspoon salt
1/2 cup honey
1 egg, beaten
1/2 cup vegetable oil
2 teaspoons vanilla extract
1- Preheat the oven to 350 degrees. Line a 9x13 inch baking pan w/parchment paper & spray with vegetable oil spray.
2- In a large bowl, mix together the oats, brown sugar, nuts, coconut, cinnamon, flour, raisins and salt. Make a well in the center, and pour in the honey, egg, oil and vanilla. Mix well using your hands. Press the mixture evenly into the prepared baking pan.
3- Bake for 25-30 minutes in the preheated oven or until the edges are golden. Pull the parchment paper w/ bars out of the pan and let cool. Cut into bars.
4- Don't eat so many that it upsets your tummy. Ask me how I know.
Have a great Thursday blog friends! =)