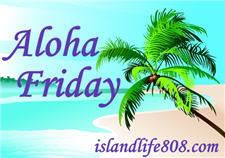 Yay- It's
Aloha
Friday! My Aloha Friday question is:
What's your favorite summertime dish/food?
We love grilling in the summer and one of our favorite things to do is make chicken satay/kabobs on the grill. Mmm. Marinate the 1" cubes of chicken in Italian dressing for an hour or so. Skewer chicken with whatever chunks of veggies you have on hand. Grill for about 20 minutes. Scrumptiousness. So easy, too- just the way I like summer meals.
I'd love to hear your summertime dishes- I'm always on the lookout for ideas!
Head on over to
An Island Life
for more Aloha Friday questions and to play.
Have a great weekend!
-Jen